"From a young age I was taught to look after my munda (land) first, then animals and plants, then your family. These are the same values that underpin Munda Wines. We are majority indigenous owned and opening pathways for my people to enter an industry that relies on munda to produce the highly sought after wines Australia is famous for."
Paul Vandenbergh
Wirangu & Kokatha Country
Director/Co-Founder/Co-Owner
ANCIENT SOILS, ANCIENT CULTURE
Over 65,000 years of stories from the world's oldest living culture.
Munda is the Wirangu & Kokatha word for land that pre-dates the French concept of 'terroir' by over 65,000 years. Our philosophy is to express the munda of select Aboriginal countries.
As Aboriginal people we don't believe in owning the munda. We believe munda is our mother and giver, and that if we care for munda, munda will care for us.
For over 65,000 years our First Nation's People, my ancestors, have respected munda first.
My ancestors have a long history  caring for munda, understanding the seasons, and adapting our lifestyle patterns to work in harmony with munda.
Waru is an integral part of our culture, it forms a unique bond, a time to share stories, to talk things through and be mesmerised by its moving shapes.
My ancestors have breathed the life of this land, and breathed life into the rich stories it has told. This is our dreamtime. Now we breathe life into Munda Wines.
We live on munda but my sacred place is the wanna. Salt water is the cleanser, it runs through my veins, but without gubbi (fresh water) we could not survive.
ABORIGINAL
FERMENTATION
Traditionally my people enjoyed various fermented beverages for ceremonial purposes. One was Wayalinah from the Palawa kani people of Tasmania who enjoyed a light cider-like alcoholic drink made from the naturally fermented  sap of the Cider Gums (Eucalyptus Gunnii.) 
These trees were nicknamed 'cider gums' by the first European settlers. In this way, it is likely we were the first culture to create an alcoholic beverage.
ABORIGINAL
COUNTRIES
My ancestors have extensive experience caring for munda across over 500 countries and language groups on this munda we now call Australia.
Munda Wines have partnered with artisan winemakers from specific countries who have a deep respect for munda. These winemakers and viticulturalists have grown vitis vinifera (grape vine) in their regions for many, many decades and across generations and have seen the impacts of climate change on munda. They have observed, trialled new methods and adapted, as my people have done over their 65,000 plus years.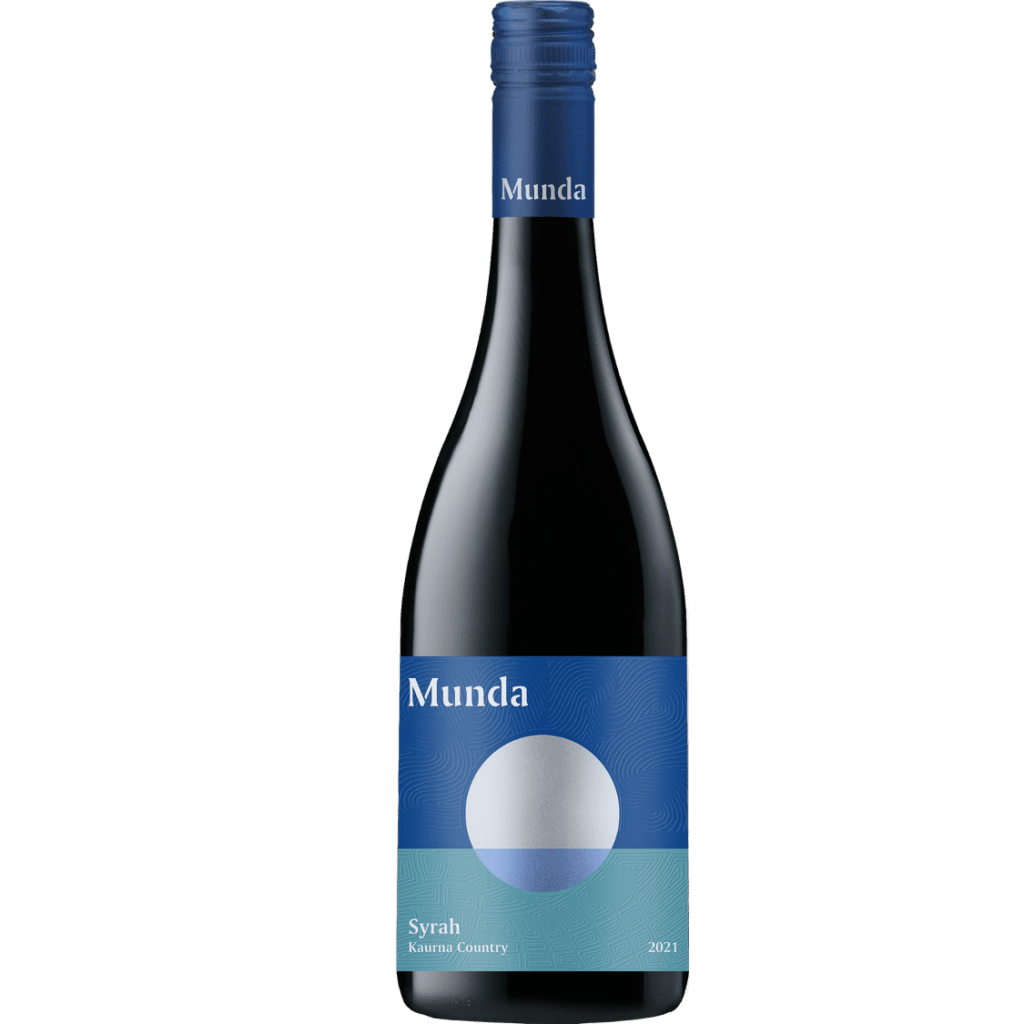 Munda Kaurna Country
Blewitt Springs Syrah 2021
From grapes grown on Kaurna Country, this Syrah is handpicked, partially destemmed and fermented in wild yeast for 10 days to extract the optimal flavour.
Medium to full bodied, blueberry, plum and dark cherry fruits burst onto the palate. Vibrant fruit combines with notes of red flowers, cacao and layers of cooking spice. The hallmark sandy/biscuity tannins of Blewitt Spring linger on the palate.
WINE
PHILOSOPHY
"Countries" as my people know them dominate and are proudly recognised on the labels. After all, for over 65,000 years these sacred places have been referred to as Kaurna Country, Ngadjuri or Peramangk Country.
Munda Wines proudly showcases the immense history of these Aborginal Countries, and the people who lived here and cared for munda. 
Our wines and wine style aims to reflect the attributes of their Aboriginal countries. We explore varieties that we believe are ideally suited to that country, and that have long term sustainability to work in harmony with munda.
WINE
STYLE
The Munda Wines philosophy extends equally to our approach in the cellar, where the values of patience and gentle practices bring to life wines that not only possess the generosity for which our Aboriginal countries are renowned, but more importantly a refined texture, fragrance and a sense of restraint.
Our wine style is to always  reflect each individual munda, preferring minimal intervention in the winery, second and third use oak regimes  to showcase munda, and preferring to bottle relatively early to reflect the brightness of our wines.

We work with our winery partners and the  Tjindu Foundation to accelerate real pathways and opportunities for Indigenous people into the wine industry.
GIVING BACK
Opening pathways into the wine industry for Aboriginal people sits at the core of Munda Wines.
Munda Wines has partnered with the Tjindu Foundation to drive opportunities and open pathways for my people within the wine industry. We are also working with our winery partners to open future opportunities within their businesses from winemaking, viticulture, sales and marketing, hospitality and winery administration including future export plans for Munda Wines. We are also working with the University of Adelaide to present scholarship opportunities for our Indigineous future wine industry leaders.
MUNDA STORIES
Periodically join us as I sit down with Indigenous leaders to hear their stories from their countries.
Wirangu Water People
I am Wirangu, and we are salt water people. Our word 'Wanna' means ocean. People talk about land being important to Aboriginal people, but my people are connected to sea country as well. Our major food source has been the ocean and it is where I cleanse and draw my energy from.